Conservation Lands in Maine
Web Map and the Full Google Earth Option
Launch Conservation Lands in Maine map here. Google Earth should automatically execute.
The data may take a few seconds to load depending on your connection speed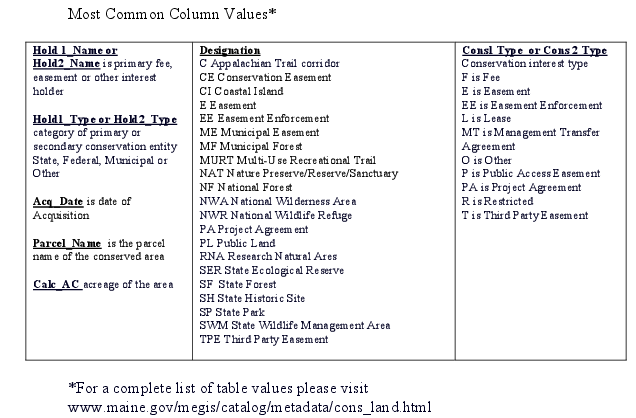 Notes about using this Google Application:
Visit the Google Earth Help Center for understanding of Google Earth and its abilities and limitations. This Google Earth link will help you download install or update the software on your PC. For full functionality please use the most updated version available.
Once you have launched the Google Earth application you can choose map layer options from the menu at the left and you can obtain information on each property.
Community Recreation information can be found on the community recreation web page which contains information about Land and Water Conservation Sites and the Recreational Trails Program by visiting the Community Recreation Google Page.
The Department of Environmental Protection's GIS Web page contains information about other available layers. You can view the information by visiting the GIS Data and Maps Page
Baxter State Park is administered by the Baxter State Park Authority and is not a part of the Department of Agriculture, Conservation and Forestry (DACF). Detailed information about Baxter State Park can be found at Baxter State Park Authority.
Disclaimers:
The Maine DACF is only providing this data to be used in the Google Earth application on the user's computer. We are not responsible for installing or maintaining Google Earth software products.
The Google Earth imagery dates provided do not necessarily represent the date the image was captured but show the date the imagery was processed and deployed.
This data is for visual representation only and may not contain all data that is available by contacting the DACF directly.
All information depicted is as accurate as available data allows.
If you have questions, comments or suggestions feel free to Contact Us